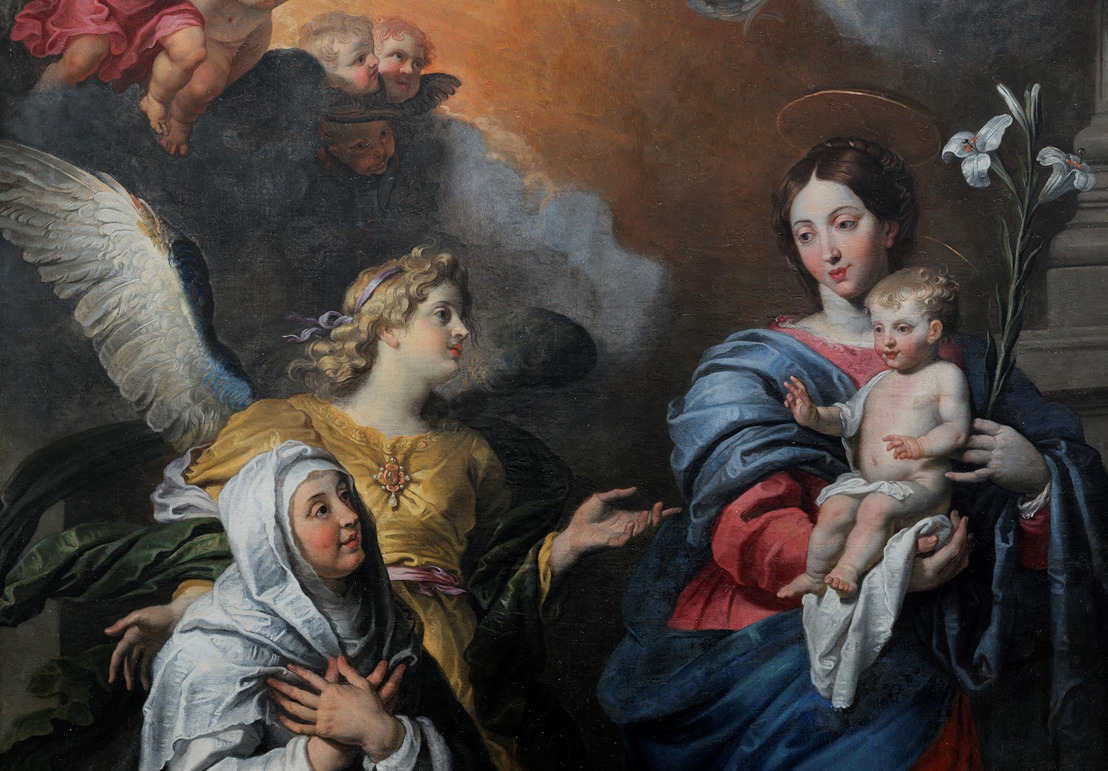 Experience this hidden gem of a Flemish Master for the first time
Flemish Masters in Situ: Gerard Seghers, The vision of Saint Gertrude (1625)
Friday, May 31, 2019 — With the project Flemish Masters in Situ, 'Openbaar Kunstbezit Vlaanderen' wants to share works by Flemish Masters that are still on display in their original location with a wide audience. Thanks to the King Boudewijn Foundation and with the support of the Baillet-Latour Fund we were able to have the monumental altarpiece 'The vision of Saint Gertrude' by Gerard Seghers restored. This painting was painted in approximately 1625 for the Saint Gertrude's Chapel, which was erected around that time in the castle domain.
You will be able to admire the restored work in the Coach House of the castle and find out all about it through an interactive touchscreen and a personal audio story. As an added bonus, Peter de Cupere created a scented installation 'tailored' to the painting.
The painting
An angel in a golden robe and a green cloak leads Saint Gertrude to Mary and the child Jesus. Commissioning churches, chapels, schools and infirmaries and caring for the poor and needy, Saint Gertrude of Nivelles was mainly known for her hospitality to pilgrims. Though she was also very knowledgeable when it came to the Holy Scripture and she was a mystic who had visions, as depicted on this canvas. Her aid was often called in against fever, lunacy and rat and mice infestations, the latter of which inspired her attribute: a staff surrounded by mice. Charming groups of angels float above Maria and Gertrudis.
The painter
Gerard Seghers (1591-1651) was born and raised in Antwerp. Between 1611 and 1620 Seghers worked in Italy, where he became enthralled by the dramatic work of Caravaggio and his pupil Manfredi. By late 1620 Seghers had relocated to Antwerp again, where he painted a great many nocturnal scenes at first. In addition to being a succesful painter, Seghers also thrived as an art merchant.
'He was very sweet and tender in all his work', reads a line of verse in an ode from 1661. 'Even in a hundred years from now, his art will inspire great devotion in many a righteous soul.'
In Situ: Chapel of Saint Gertrude
Count René de Renesse embellished Gaasbeek Castle and its park during the first half of the seventeeth century. This was also when the chapel assumed its current Baroque appearance. In 1628 the chapel was solemnly dedicated to Saint Gertrude. At this occassion, the painting by Antwerp master Seghers was placed on the high altar. That, at least, is what we suspect.
Due to climatic conditions, however, the painting will be exhibited in the former Coach House of Gaasbeek Castle.
The fragrance
Peter de Cupere (Leuven, °1970) is a Flemish olfactory artist who regularly exhibits in Belgium and abroad. For Flemish Masters in Situ, he sets out to create exactly the right fragrance that would inspire visitors to experience and look at the painting before them in a completely new way.
For his fragrance composition for The vision of Saint Gertrude, Peter de Cupere was inspired by the illustration of the white lily and the vermin underneath. In addition, the colour tonality and the original location where the painting hung also played an important role in composing the scent.

Practical info / 1 June to 30 September 2019, open daily from 10 AM until 6 PM, closed on monday, open on holidays. Included in your visit to the castle. If you only want to visit Flemish Masters in Situ: € 1, -18 years: free.
More information:
www.kasteelvangaasbeek.be
www.vlaamsemeestersinsitu.be